That time is upon us again, cold days, central heating and cosy jumpers. But, the winter season also means a change in how our skin reacts, feels and needs.
When it gets a bit colder our skin can often go quite dry and flakey, we might get some blemishes, rosacea might appear and our complexion can often look a bit dull and lifeless. Although all of these things are really common, it's not what we want! On top of cooler days, we also don't want our skin bringing us down.
So I thought I would compile a little list of the best ingredients to use to get a head start on having our skin looking and feeling it's best for the cooler months ahead.
1. Shea Butter
FOR SOFTNESS & MOISTURE
Shea Butter is one of the best natural ingredients to soften and soothe the skin, this is why it is in pretty much all of BAO's products. It helps to heal and protect our skin, which is exactly what it needs during winter. It will not only combat dryness with its amazing moisturising properties, but will also help lock in that moisture making sure our skin stays hydrated all day. It also helps to fight free radical damage caused by the cold, harsh weather, making it pretty much our skin's winter hero. Try Recovery Face Cream to soothe winter skin. 
2. Sodium Hyaluronate or Hyaluronic Acid
FOR INTENSE HYDRATION
As our skin is more prone to dryness as a result of the cold air and heated indoors, we want an ingredient like Hyaluronic Acid.
Hyaluronic Acid is a game changer when it comes to hydration. It is a counterpart of Hyaluronic Acid and holds 1000 times its weight in water making it the ultimate hydrator. Sometimes both are referred to as 'Hyaluronic Acid' but there are some key differences, with the main one being Sodium Hyaluronate has a much lower molecular size, which allows it to penetrate the skin better. It also helps our skin retain the moisture so it stays supple for longer. Try Hydrating Rose Mist, not just in the morning and at night. Also comes in a mini handbag size, perfect to spritz throughout the day to keep your skin dewy.
3. Essential Fatty Acids
FOR IMPROVED TEXTURE & BARRIER FUNCTION
These acids are so beneficial to our skin as they help the layers function and work optimally. They will ultimately heal and strengthen our skin's natural barrier, which if compromised, can lead to all kinds of skin concerns. They will help even out tone, combat dehydrated skin, increase hydration, reduce redness and sensitivity. These are pretty much the pillars of good skin health but try feeding your skin from within. They can be found in things like avocados, nuts, seeds and olive oil. If not try Restorative Beauty Oil  which is packed with powerful nourishing oils like jojoba oil, rosehip oil and Baobab oil.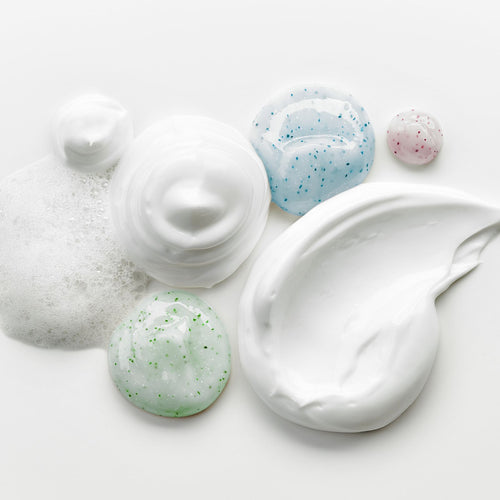 4. Sweet Almond Oil
FOR REPAIRING & LOCKING IN MOISTURE
This is one of the best oils because not only is it an excellent moisturising and protective oil, it is also extremely lightweight and absorbs quickly into the skin without feeling too greasy. This is perfect for this time of year because although we want moisture, we don't want it to feel heavy. Macadamia oil also contains a fatty acid called palmitic acid, which is naturally found in our own skin sebum, which softens our skin and helps it to retain moisture. Don't forget your body too and use Reviving Body Cream everyday, also scented with grapefruit and mandarin to help uplift your mood too!
5. Jojoba Grains
FOR GENTLE EXFOLIATION
As our skin is usually going through different temperatures, from being really cold outside to probably a heated room, our skin cells tend to dry out and die quicker than the other months. As a result, we want something like White Willow Bark to gently exfoliate the skin. This will help get rid of those dead skin cells and help the skin to look fresh, polished and revitalised. It will also help other skin care products to better penetrate the skin giving optimal results. So try adding Radiance Face Scrub into your evening skin routine, gentle enough to use every other day. 
6. Chamomile Water
TO CALM INSIDE AND OUT
It's very common to experience rosacea, redness and also inflammation during the winter months. This is often because our skin is being exposed to different temperatures, from the cold air, to a heated room and back again. To help with this, we want to calm and soothe the skin and one of the best ingredients is the chamomile. It will also help to calm any irritation you may have and restores moisture giving our skin a natural glow. Drink a nice cuppa of chamomile tea each evening before bed and look out for it in Recovery Face Cream and Hydrating Rose Mist.
7. Cocoa Butter
FOR SOFTENING AND REPAIRING
Cocoa butter is a super nourishing and healing ingredient, amazing for our lips! Our lips can take a pounding during winter, especially when it's raining and super cold. So cocoa butter will have your lips looking soft and plump, so much so that we'll forget its gloomy outside. But also great for our body skin too so check out Luminosity Body Scrub and  Lip Saviour is a winner as it is also blended with organic apricot oil and berry wax yummy!