Hello and welcome to my first Happy Skin Journal article!
Thank you fo stopping by. I thought i would start with a little introduction to me and how BAO Skincare came about. I will be sharing more articles on starting up a brand, running a business, living with a chronic illness, eating for happy skin and so much more!
So, to start, for those who do not know me, I would like to introduce myself, hi my name is Beth and I am the owner and creator of BAO Skincare.
People are my true passion in life. I love people. I love talking to people, I love making people feel good about themselves, I love inspiring people, motivating people and above all, I love that my skincare products can uplift your energy, make you feel calmer and your skin happier.
As you may have read on my website I have over 10 years in the beauty industry and have been in love with natural skin care for even longer. I literally used to make face masks and body scrubs from ingredients I found in the kitchen, my mum wasn't that impressed! So you can imagine my delight when I finally began living my dream of launching my own natural organic and vegan skincare brand.
I chose the name BAO because I wanted my products to reflect me and what the products are made from. BAO stands for BETH'S AROMATHERAPY ORGANIC. When I studied a Diploma in Natural Beauty Therapy and Nutrition in Australia in 2006, natural skincare was just starting to make its entrance in the beauty world, well in Australia. Natural skincare products were something you would only really find at hippy markets and whole food health stores.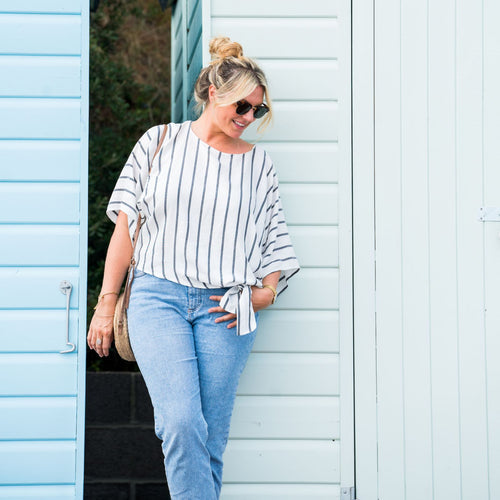 However, living in Australia for four incredible years, I was exposed to such a nourishing holistic way of life, they were ( and in my eyes still are ) definitely ahead of England. I am a huge water baby and it was surfing that led me to move to Australia in the first place. Yes, I was that "pommy" that was teaching surfing to backpackers and holding all day long surf lessons, I loved it! I was also lucky enough to spend my weekends visiting gorgeous hippy markets and music festivals where I got to sample lots of yummy new foods and natural skincare products. From whipped shea butter body creams to floral and silky face oils, clay face masks and soaps. It was Australia where I really fell in love with this relaxing holistic way of life. So, I completed my diploma and naturally, started my journey into the beauty industry.
So fast forward over 10 years and after returning back to my home town of Sandbanks in Dorset I opened my own beauty business which I started from home, from the ground up with only three customers. I was working from home full-time after only 6 months, as a beauty therapist offering waxing, facials and massages.
But I was still so in love with natural skincare, and in 2012 I travelled up to London to study more, completing courses in making natural skincare products. I then expanded my business to opening a high end beauty salon in 2014, it was a massive success but came to an end in early 2018 due to my health issues. I've had Ulcerative Colitis and Crohn's disease for many many years and after years on horrible drugs and medications my skin got really sensitive, so I decided to step back to work from home and put 100% of my energy into launching a fabulous skincare brand people would be obsessed with!
Launching BAO Skincare at the end of 2017 was the best thing i ever did, my beauty customers were loving it and I was getting new customers ( from all over the county ) every day. However unfortunately, in 2019 i spent nearly 80% of the year in hospital very very ill with my IBD and this then resulted in me having two very major operations and i now have a stoma and have got my life back!
So here we are, in 2020 and I am finally launching my Happy Skin Journal after all these years! I have always loved to share my secrets to happy glowing skin with anyone I meet, I could chew your ear off talking about skincare, nutrition and wellness, believe me! With meeting so many different people and working in so many different industries, from waitressing and cleaning a B and B to advertising sales executive and manager of a gym, I have found my true calling!
As you will see, currently, I am a small brand. With the help of our beautiful dog Walter ( you will have seen him all over our Instagram page) I make all of the products by hand, label the jars and bottles, create our social media and if you ever contact us you will come through to me. I have so many exciting things planned for BAO Skincare and now my health is better I am full steam ahead. We have new products in the making, refillable products on the way and after working extremely hard to get certification from COSMOS Soil Association and registered with The Vegan Society, we are now even more determined to keep being as eco friendly as possible. I always welcome your feedback and I am always here to answer any questions you have.
I would like to take this opportunity to thank you from the bottom of my heart for all the incredible love, support and energy you have given me. I hope to keep making your skin happy for years and years ahead.
Love Beth xx