I think we can all agree that 2020 has been a difficult year so far, and when it comes to our skin it's no surprise that it's been negatively affected too.
Financial stress, emotional stress and uncertainty and now masks! As if we needed another thing that could potentially cause skin issues! But if you're suffering, it may comfort you to know you are not alone. "I am hearing more and more from my customers that they are suffering with breakouts.

The close contact to skin, combined with a warm, moist environment between the surfaces creates an opportunity for the skin to become inflamed and irritated. With so many of us experiencing 'maskne', I thought I would share some of my top tips on how to treat and prevent it...
Start With Good Skincare
Just like our new hand-washing habits, thorough cleansing of the skin on your face is key. Whether you've been wearing a mask intermittently or throughout the day, I highly recommend using a gentle foaming face wash like my Refreshing Face Wash which is SLS free and won't leave your skin dry and tight. I also suggest adding gentle exfoliating into your evening routine using Radiance Face Scrub. The jojoba grains are so gentle yet so effective at removing dead skin and dry flakey patches, the organic shea butter soothes and nourishes whilst you sleep and the sweet orange will help brighten. The extra bonus is it keeps fine lines and wrinkles away too, creating a beautiful bright complexion.

After a good cleanse, I also recommend to reduce most of your skincare routine by avoiding any harsh exfoliants, strong peels and ingredients such as retinol, as these can be incredibly drying and cause further irritation. Yes these ingredients can be fabulous for brightening the skin, but if you're suffering with mascne then it's a good idea to instead opt for soothing and hydrating products which will help keep your skin barrier in tact. Spritzing Hydrating Rose Mist morning, night and throughout the day will help keep your skin dewy and hydrated under the mask.

Moisturiser is key to replenishing your skin, so by using my best seller Recovery Face Cream, it will lock-in moisture and repair rather that sitting on the top of the skin. Then one thing i have found to be difficult when wearing a mask is my lips get really dry too, so using Lip Saviour throughout the day will help keep them soft, protected and looked after, just don't forget to hand sanitise before dipping your finger in.
Inside Out, Outside In
It's no surprise that I would mention this one! Aside from managing any skin concerns topically, I always believe, and science shows, that one of the best things you can do to improve your skin's overall health is to support from the inside. This is especially the case given we are all currently feeling the heat, and we all know that stress, anxiety, poor sleep and hectic work schedules can be acne triggers too. Healthier skin with a better microbial balance is likely to mean you're less likely to develop skin issues such as mascne.

Diet is extremely important here – and I will be posting an article on skin food soon so keep posted. But suffice to say, a diet rich in colourful plants, wholegrain carbs, essential fatty acids, nuts, seeds, dark berries, fermented goods (kefir, kimchi and yoghurt) legumes and herbs and spices should be the foundation of what you eat, as well as staying hydrated and reducing alcohol.

Alongside this, the right supplement can be a fantastic too. Taking a high quality multi-vitamin with 48 different vitamins, minerals, antioxidants and probiotics which really help to strengthen, rejuvenate and hydrate your skin from within will work wonders. Or a supercharged blend of ingredients such as collagen, super-berries, hyaluronic acid, pine bark, vitamin C and zinc can help to address imbalances, and help to ensure your skin is as strong, healthy and resilient. I use https://nourishbynaomi.com/ in my smoothies.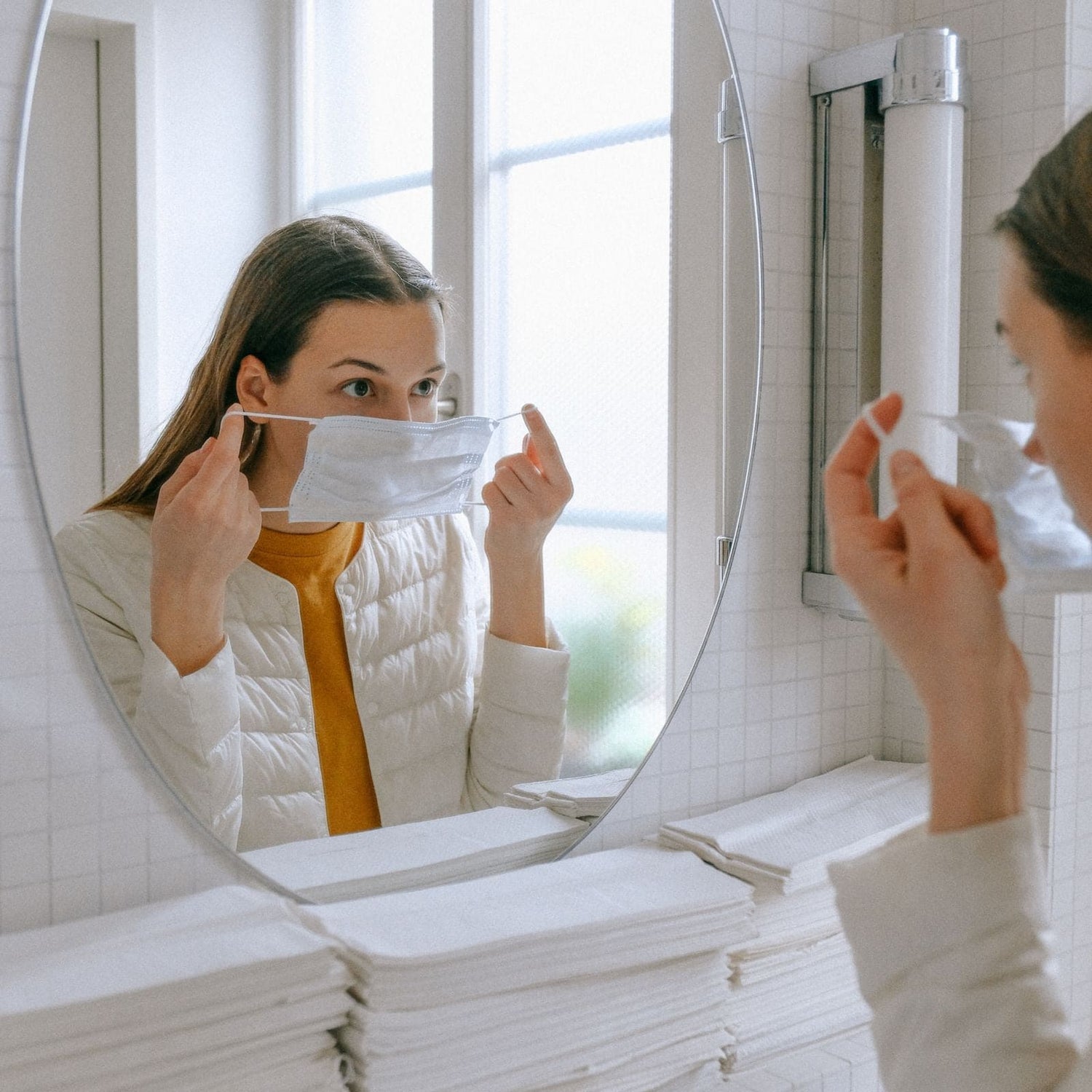 Check the material of your mask
After all the hard work we have done trying to reduce our plastic use, we now have one use blue mask floating around our countrysides, waters and streets. But it would seem that for many of the skin concerns related to masks, the friction of the mask itself against the skin is a big factor. This can create a humid environment around your nose and mouth and so it's a good idea to use a breathable, 'kind-to-skin' fabric such as cotton. This will be lighter and more breathable for your skin.

I hope these little tips will help you out, but as always if you have any questions regarding your skin please get in touch with me hello@baoskincare.co.uk anytime.