For every woman out there over the age 50 who knows that beauty comes from within, but who also wants to look the best they can, this article is for you.
And, for those of you curious about plastic surgery, Botox injections, and fillers, you won't be after reading my advice. I don't believe in the word "anti- ageing", there is no miracle cream that will reverse ageing, but there are things you can do to help slow it down.
WEAR SUNSCREEN EVERY DAY
I know it's tedious to constantly hear about the importance of sunscreen, but if there is one beauty rule I'd tell my 14-year-old self it's to wear a decent sunscreen every day. Nothing damages your skin more than exposure to the sun. It's the number one cause of brown spots, wrinkles, and skin cancer. These days we are so lucky, there are so many incredible fake tans that we don't need to tan our face for that fresh glow.
But, remember, not all sunscreens are equal. You should choose a sunscreen of at least 30 SPF and you should choose one that blocks UVA and UVB rays. If you have sensitive skin try one that doesn't contain any fragrance or parfum.
Three things to remember once you've found the right a sunscreen:
You should wear it rain or shine, and yes even just dropping the kids off at school. UV rays break through cloud cover and it's important to make a habit of using sunscreen daily. But don't worry, it won't clog your pores as long as you cleanse your face at night.
Reapply throughout the day if you are outside a lot, sweating or (when summer is here) sunbathing.
Another important tip is to always pop some on the back of your hands! Dermatologists say they can tell a woman's age by looking at her hands, in addition to her face.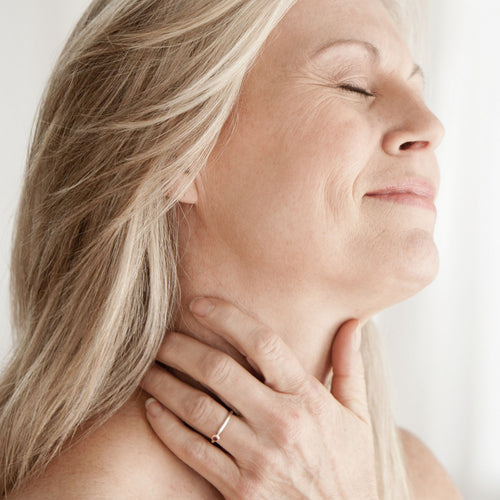 MAKE SURE YOU'RE USING THE RIGHT CLEANSERS AND MOISTURISERS
It's very important to choose cleansers, moisturisers, and a skin care routine formulated for your skin type.
If you have oily skin, consider yourself lucky. Oily skin tends to develop fewer wrinkles. If you have sensitive skin, you should test all of your products on your neck or arms before you use them. That product you loved a few years ago may (as you advance in age) now cause redness.
You may have also noticed the older you get, the drier your skin becomes. As we age, our skin suffers a slowdown in oil production and cell turnover, especially after menopause.
I would recommend using Refreshing Face Wash if you have oily/combination skin or Nourish Urself Cleansing Balm if you have dry or sensitive skin.
WHAT TO DO IF YOUR SKIN IS DRIER THAN THE SAHARA DESERT
To keep dry skin in the best condition possible, it's vital to cleanse with products that won't remove skin's natural moisture. It's also really important to exfoliate regularly and keep your skin moisturised throughout the day.
Here are some tips to keep your face from drying out:
Don't use hot water. This only strips your skin of oils. Instead, use lukewarm water.
Use a cleanser that's oil based or creamy and formulated for dry skin like Nourish Urself Balm. Don't get sucked into over priced cleansers that contain ingredients like hyalauronic acid too, as remember they are being washed off, keep HA for leave on products.
Nourishing, moisturising creams and oils will help lock moisture in. Always apply at night and in the morning under your makeup. For morning I suggest Recovery Face Cream and for the evening Restorative Beauty Oil.
Consider investing in products that contain hyaluronic acid, which is one of the hottest trends in skin care right now. Hyaluronic acid helps skin absorb and hold onto moisture 1000 times it's own weight, it effectively plumps up the skin too. Try Hydrating Rose Mist. Hyaluronic acid is a naturally occurring polysaccharide found in the human body. It acts as a cushioning and lubrication agent for our joints, nerves, hair, skin, and eyes. When used in skincare, it acts as a moisture binder, which means that it will attach itself to the water in the cells (while also attracting and holding water from the air) making them plump.
If you have dry skin, you likely have flaky skin, so you should exfoliate every week, if using a gentle exfoliator like Radiance Face Scrub you can use it every other night. It honestly leaves your skin super soft and smooth, this is thanks to the high shea butter content and gentle jojoba grains.
Don't forget about the rest of your body too. Stay away from drying soaps in the shower and opt for body washes that are free from SLS's, sulphates and harsh fragrances. Try Reviving Body Wash. After your shower, it's then super important to moisturise, moisturise, moisturise, try Reviving Body Cream, and remember with BAO products they go a lot further than super market ones.
FIND AN OIL YOU LOVE
I think you either love or hate oils, I personally prefer to use oils at night and then creams in the morning. Oils glide on smoothly, and leave skin feeling plump and dewy. BAO Skincare has two, one for the faceRestorative Beauty Oiland one for the bodyHealing Body Oil.
EXFOLIATION IS KEY
Exfoliation is a must as we age. The outer layer is a roof of dead skin, and it thickens as you age, so you need to exfoliate to see more of the fresher skin. Think of it like vacumming, removing the dead skin cells is like removing dust from your house.
I suggest exfoliating both your body and your face at least once a week, more often if your skin gets dry, itchy, and flaky (which can happen especially in the cold winter months). Try Luminosity Body Scrub for your body.
For the face, I recommend Radiance Face Scrub .
DO EYE CREAMS REALLY WORK?
The first signs of ageing are usually around the eyes, which prompts women to purchase over priced eye creams which promise to turn back time. The truth is, they don't! The skin around your eyes is very thin and will only get thinner as you age, but you don't need a specific "eye cream", sorry but your are being sucked into marketing.Recovery Face Cream,Nourish Urself Balm andRestorative Beauty Oil are ALL gentle enough to use over and around the eye are, I do every single day and night and i hardly have any lines at 38.