I get asked this question a lot and I'm always so surprised that a lot of you are still unsure, so that's why I thought I'd clear it up!

I think it's really important to let you know that there is a difference between cruelty-free and vegan. Will you to take your own cruelty-free pledge? To take part by buying all cruelty-free products, this will definitely be a step in the right direction and worth supporting.

For some people, buying vegan products is going to be an easy transition. For others, going cruelty-free is all that they can do. Even just swapping a handful of your products for cruelty-free or vegan versions is great! What each person is able to do is going to be different, and it's important to take whatever steps you are comfortable with.

So let's dive in, what's the difference between vegan and cruelty free?
What are vegan cosmetics?
A product that is vegan does not contain any animal ingredients or animal-derived ingredients.

This means it doesn't contain but is not limited to, honey, beeswax, lanolin, collagen, albumen, carmine, cholesterol, gelatin, and many others. To many, the term "vegan" also means that a product is free from animal testing as well.THIS IS NOT ALWAYS THE CASE!Because the term is not regulated, it is often used to simply note that a product does not contain animal ingredients.Items that are tested on animals can claim to be "vegan".These companies are often more than happy to tell you exactly what items and shades are vegan. If they are unable to give you a clear answer, it's best to avoid products by that company.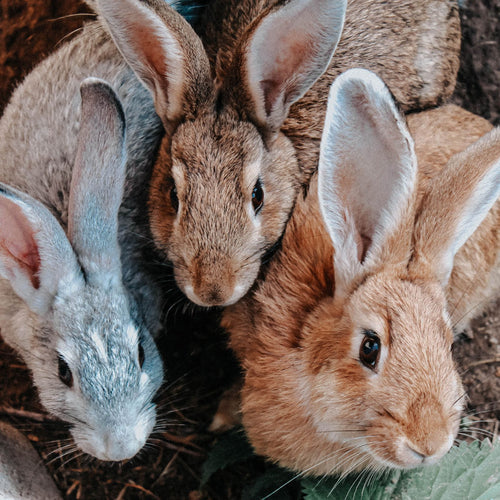 What are cruelty-free cosmetics?
For a product to be cruelty-free, there should be no form of animal testing at any point in the creation of a brands products. However, a product can be cruelty-free and not be vegan.
It's common for companies to not test the final product on animals, but some will test it along the way or use ingredients that have been tested on animals by a third-party.
Products that are not tested on animals are not necessarily vegan. Commonly used ingredients include honey, beeswax, lanolin, collagen, albumen, carmine, cholesterol, gelatin, etc. I had a call with a customer the other day, who said she was fully vegan. She was looking for a new cleanser, when I asked her which one she was using currently, she said Liz Earle's. I had to then break the news to her than it contained bees wax, NOT a vegan product unfortunately, sorry. 
"Required by law" animal testing is also common. This means that the finished products are tested on animals by a third-party to comply with various regional laws around the world. These products, no matter what the packaging says, are not cruelty-free.
How can you make your shopping easier?
I always find it's best to look for products that display The Vegan Society Logo, as this means the the product is BOTH Vegan and Cruelty Free! Having the Leaping Bunny displayed will only guarantee the product is Cruelty Free, they can still be non- vegan. 
Here at BAO Skincare I have gone that step further and have leaped and jumped through all the Eco-Friendly hoops. BAO is 100% Vegan, 100% Cruelty Free AND certified by COSMOS Soil Association. This means every ingredient I use in BAO is safe for the environment, the people who create them and safe for your skin!
So there you have it, I hope this clears it up a little more for you.

BAO Skincare focuses on 100% cruelty-free and 100% vegan products. To me, this means no animal testing and no animal ingredients. I think that it's really important to let people know that there is a difference between cruelty-free and vegan so that you can each decide which products are the best for you.