It's hard not to get excited about summertime. Think summer holidays, hot sun, clear blue skies and swimming in crystal clear waters. Whether you're jetting off abroad or staying put don't forget about the importance of your skincare routine! UVA/UVB rays are harmful all year long, but are especially damaging during the summer months when our exposure levels are higher thanks to spending days at the beach or in the park.

That's why it's important to focus on sun and heat protection, in addition to maintaining your regular skincare routine. It can be tough to know where to start, so here at BAO Skincare we've put together a few happy skincare tips for keeping your complexion healthy, cool and dewy this summer.
1. COOL OFF WITH A MIST
Stash a bottle of the Hydrating Rose Mistin your fridge or cool box so you can mist your face and body when you're out and about or just at home relaxing. It's packed with cooling aloe vera and calming floral waters that will soothe and hydrate skin on top of cooling you down.
2. SWITCH TO COOLER SHOWERS
Hot showers after sun exposure will further dry out your skin. Turn down the temperature and you'll pick up a few added benefits. A cool shower after excess sweating helps to keep skin clear, boosts circulation and helps to decrease acne breakouts.
3. SEND YOUR HEAVY CONCEALER PACKING
If you wear heavy concealers and foundations, now is the time to put them away until October. During the summer months you don't want anything blocking your pores.
Your skin needs to breathe more than ever as you will be warmer and sweating, so it needs to be able to get rid of toxins and also the purpose of sweating is to cool your skin. I recommend Bare Minerals tinted moisturiser and have been using it for over 10 years!
4. HIDE YOUR AGE, PROTECT YOUR HANDS
Most of us are strict when it comes to protecting our face from the sun, but then forget our hands need sun protection too. You can tell a person's age clearly from the skin on their chest and hands, so when you head out add a little sunscreen to the backs of your hands and hydrate with the Brightening Hand Cream. 
5. COOL DOWN SUNBURN AT HOME
Try cooling down sunburn with a fresh calming face mask. Whip up some Greek yoghurt, oats and cucumbers in a blender, leave in the fridge for an hour then lie down, apply to your face and chest and relax for 15 minutes.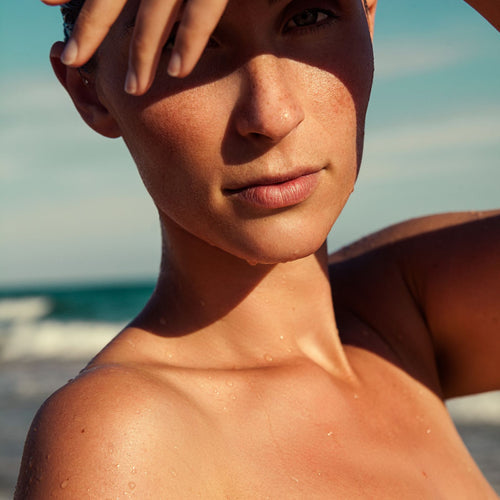 6. WEAR JACKIE O SUNNIES
Sunglasses aren't just great for protecting your eyes or to use as a fashion piece, they also protect your skin from getting wrinkles and crow's feet. The bigger the better, but as long as you wear them out and about, they will massively help. No botox needed thank you.
7. FEED AND PROTECT YOU SKIN FROM WITHIN
One of the best things for protecting your skin from within this summer is probably already in your kitchen. Take a strawberry, cut in half, poke the flesh with a fork to release the juice and then smooth all over your face. Melons are key for beautiful summer skin too, this sweet fruit is rich in antioxidants and delivers unique hydration to your skin, resulting in a radiant complexion. It can also actually boost your SPF by several factors as well. Then add blueberries, carrots and other bright foods to your meals, for brighter clearer skin.
8. SUNSCREEN THAT DOESN'T BLOCK PORES
A lot of sunscreens can be heavy and oily, which can contribute to breakouts and sensitivity. Make sure you are using an SPF that is lightweight, so will soak into skin allowing it to breathe.
Try to avoid using chemical sunscreen ingredients like benzophenones (like oxybenzone), cinnamates, octocrylene, certain preservatives like quaternium-15, and the fragrance Balsam of Peru. These all come under the heading of chemical UV filters. This means they're absorbed through the skin where they bond with UV light to prevent it from causing burns.
9. HATS ARE ELEGANT 
Hats are now fashionable, so make sure you always wear one when out in the sun if you wish to keep wrinkles and premature aging away. A baseball cap won't protect your face from sun coming at an angle. Opt for a hat with a brim for full protection.
10. SCRUB AWAY DRY WINTER SKIN
One of the most effective ways to make your tan last longer during the summer is to use both a face and body scrub. But remember if doing so your skin will need extra sun protection, face scrub is always best used in the evenings, but be mindful if your skin is pink from the sun.
The Radiance Face Scrub is very nourishing and great for sensitive skin too. When scrubbing your body pay special attention to your knees and elbows and be super delicate around your chest area, try the softening Luminosity Body Scrub and always finish with an ultra hydrating and nourishing body cream like the Reviving Body Cream or Healing Body Oil if using in the evening (as oil should not be worn when out in the sun!).
11. FAKE IT UNTIL YOU MAKE IT
However, if you don't want to be in the sun long enough to tan, or you live in a cloudy part of the country then just fake it! Gone are the days of pore blocking, biscuit smelling orange fake tans.
We are so lucky to have such a selection of good fake tans. I recommend Bare by Vogue.