WHAT IS HYPERPIGMENTATION?
Hyperpigmentation isn't really a skin condition, but a term that describes patches of skin that appear darker than the rest of your skin. Patches can really vary in size, you may have the odd dark spot on your face or it could affect large areas of your body.
TYPES OF HYPERPIGMENTATION
There are different types of hyperpigmentation with the most common ones being sunspots, melasma and post-inflammatory hyperpigmentation.
SUNSPOTS
Sunspots are caused by excess sun exposure over time. They generally appear as spots on the area of skin that's exposed to the sun, which is why you're more likely to see sunspots on your hands and face.
MELASMA
Melasma is much more common in women than men. It's believed to be caused by hormonal changes and may develop during pregnancy on areas like your stomach and face.
POST-INFLAMMATORY HYPERPIGMENTATION
Ever had a nasty spot leave a mark on your skin? Acne is the most common type of post-
inflammatory hyperpigmentation, this kind of hyperpigmentation is a result of injury or inflammation to the skin.
WHAT'S THE CAUSE OF HYPERPIGMENTATION?
Although hyperpigmentation is usually harmless it can become quite an issue for some. A common cause of hyperpigmentation is an excess production of melanin, and melanin is what gives your skin its colour. There are a number of factors that can trigger an increase in melanin production in your body including certain medications, sun exposure and hormonal changes.
HOW LONG DOES HYPERPIGMENTATION LAST?
Hyperpigmentation doesn't always fade. It really depends on how much of your body the hyperpigmentation covers and how much darker it is to the rest of your skin. With treatment you may see results within a few months, but without treatment it can take a lot longer.
WHAT IS THE BEST TREATMENT FOR PIGMENTATION?
EXFOLIATION
Our skin cells can build up in layers on our skin surface unless we remove them with exfoliation. Pigmentation is darker skin cells that build up around dead skin cells. So as you exfoliate you remove the top layer of these cells, revealing brighter fresher skin. Over time this will then reduce the appearance of any dark patches too!
DERMATOLOGIST
If you want to know the cause of your hyperpigmentation then you can see a dermatologist who'll take a closer look. They'll be able to answer any questions you have and they'll put together a treatment plan that's right for you.
SUNSCREEN
I've said it before so I'll say it again, sunscreen is your best friend! Sunscreen is the most important factor in improving and preventing most causes of hyperpigmentation. When it comes to buying suncream, keep an eye out for those with a broad-spectrum coverage and zinc oxide as the main active Ingredient. I recommend wearing factor 50 sunscreen during Summer and Spring, and factor 30 during Winter and Autumn. A moisturizer that contains SPF isn't enough, but you can get sunscreen specifically for your face which are much lighter to apply every day.
DON'T TOUCH
If you've got hyperpigmentation from trauma or injury then remember to keep your hands off your skin! It can be so tempting to pick at a spot, scab or blackhead but this will only trigger inflammation. Inflammation increases the production of melanin and before you know it you skin will become blotchy.
SHOULD YOU AVOID TOPICAL PRESCRIPTION MEDICATION FOR HYPERPIGMENTATION?
Topical prescription medication can treat some cases of hyperpigmentation, but this kind of
medication normally contains hydroquinone. Hydroquinone is a skin-lightening agent that bleaches your skin and prolonged us of the medication can actually cause a bluish black discoloration on your skin is known as Ochronotic.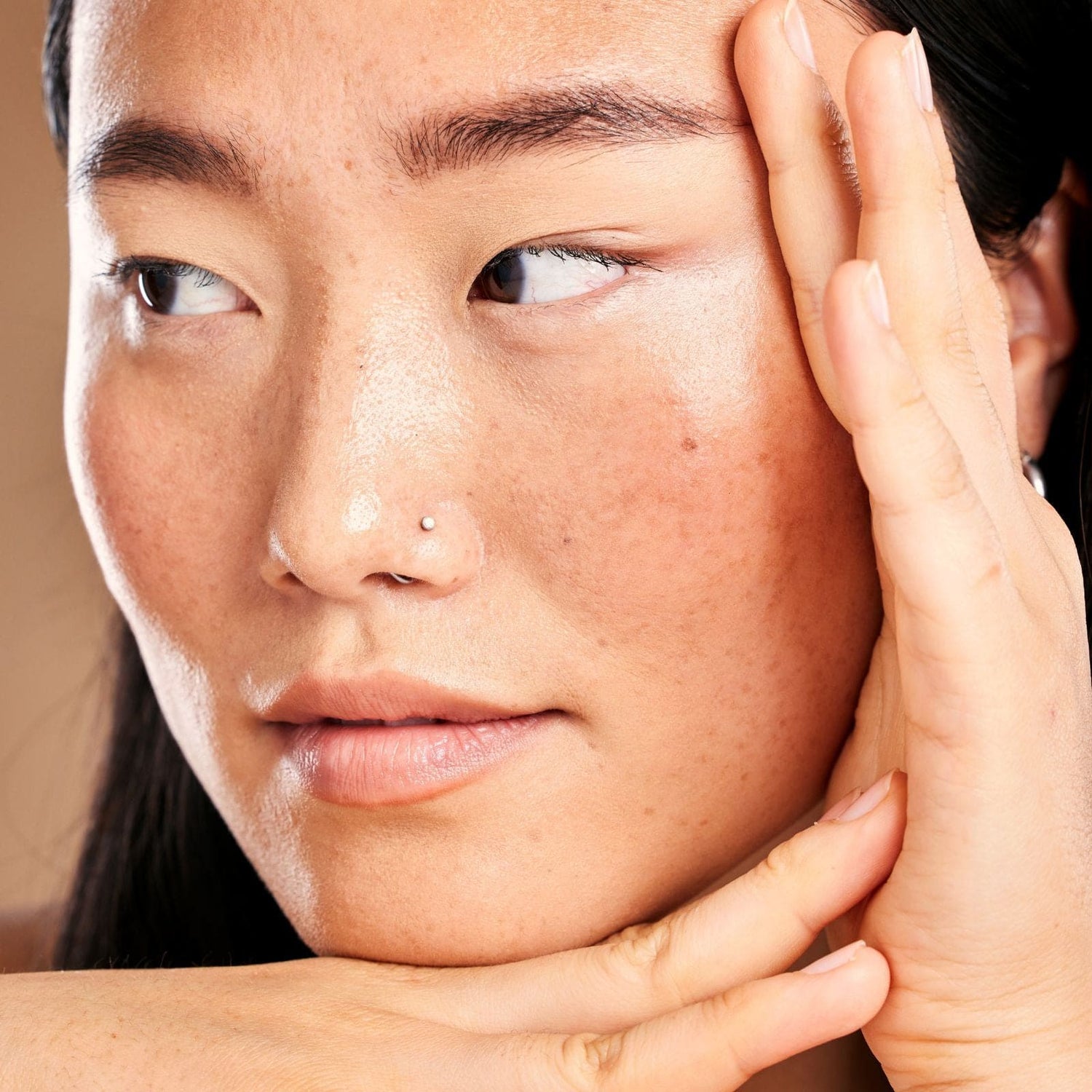 PRODUCTS TO BEAT PIGMENTATION
Radiance Face Scrub
The Radiance Face Scrub is made with natural ingredients that gently exfoliate and brighten your skin instantly. The nourishing shea butter soothes and hydrates, reducing pigmentation and evening out your skin tone. Exfoliation is key in reducing pigmentation. Adding it into your skincare routine allows it to buff away dead skin cells and dark patches to reveal brighter fresher looking skin.
Nourish Urself Balm
I absolutely love this product! The Nourish Urself Balm is the first product I created in the BAO collection to help with my sensitive skin and scars from previous surgeries. And now my scars are barely there! It's a miracle-working organic balm that helps even your skin tone.
Restorative Beauty Oil
The Restorative Beauty Oil is made with carefully selected organic plant oils that help calm, brighten and smooth blemish prone skin. The super soft blend of Jojoba, Baobab and Tamunu oils work to reduce inflammation, purify the pores, and improve the look of any acne scarring.
ARE FRECKLES HYPERPIGMENTATION?
You might notice when you've been on holiday you've got more freckles on your face by the end of the week, well that's because freckles are a type of hyperpigmentation. People with them produce more than enough melanin but it just doesn't distribute evenly across your skin. Whether you've got freckles or not, you should always wear sun protection!